Shadow Warrior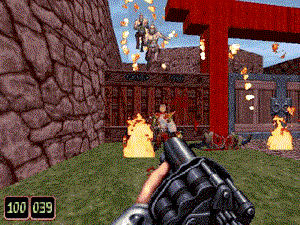 In Shadow Warrior, you play the part of Lo Wang, a master ninja who has vowed to avenge a long-ago disgrace. At your disposal throughout this bloody quest is a vast array of weapons and skills, including lightning-fast martial arts punches, triple shurikens, riot guns, single or double uzis, rocket launchers, grenade launchers that fire bouncy projectiles, and bombs that stick to their targets. Shadow Warrior features stunning 3D graphics and nonstop gameplay.
The shareware version allows you to play the first four levels of the game, and lets you play mutiplayer games (against other Shadow Warrior Mac demo players) for 5 minutes at a time.
Unfortunately, as a result of the awesome graphics, Shadow Warrior requires a PPC to run.