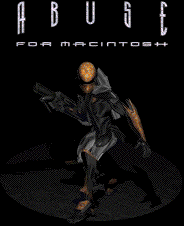 Falsely accused and imprisoned in a high-security facility, you watch in horror as a mysterious biogenetic experiment turns everybody around you - guards and prisoners alike, into ravening, inhuman monsters. Your only hope - steal a suit of powered armor, any weapons you can get your hands on, and make your way to the deepest level of the prison, before the plague spreads to the outside world.
Abuse is 360 degrees of side-scrolling action. Run, jump, fall and fly in any direction - through industrial corridors, caverns and sewers. Destroy enemies in any direction with grenade launchers, rocket launchers, napalm and nova spheres! Avoid deadly traps with jet packs and turbo boost!
Created by the red-hot new game developers Crack dot Com and distributed by Bungie Software, Abuse combines classic arcade action with up-to-the-minute graphics, sound and technology.