My name is Jason Weng. I am currently a student at University of California, Riverside. This web site is my contribution to the Macintosh world, a little something I do in my spare time. I have a Power Macintosh G4/450 256 MB RAM and two 18 gig cheetahs configured in a RAID level 0 and and a Epson Perfection 1200U and a number of other macintoshes that I've outgrew. I will continually update this web site as often as I can (with what litle time I have left because of classes and such) and bring you the best of Macintosh shareware out there all in one site.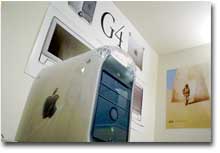 Behold....the G4 in all of its glory in my UCR dorm.
Notice the G4 and Star Wars Poster in the background.
Notice how you can't see my messy room. (not really)
Notice that you can't see the lowly PC its standing on (really).